Émilie Jouvet: "Nobody is quiet after seeing this movie"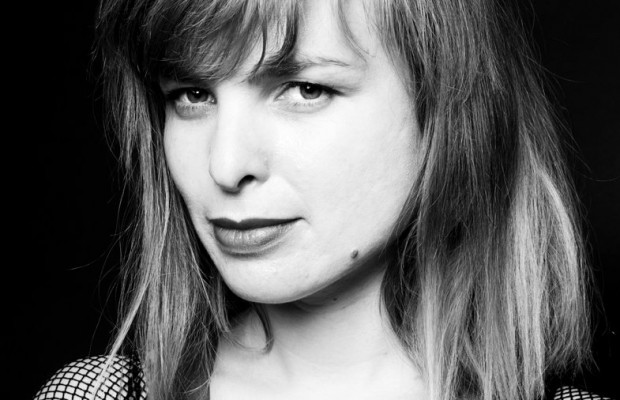 "Too Much Pussy!  is what happens when feminism and porn meet", says Émilie Jouvet and smiles. The French female director is making lesbian, queer porn. In an interview she tells us why not every feminist is d'accord with her movies.
A stage somewhere in Europe: naked women, fake blood, masturbation and screaming. This is not the usual picture you find in a documentary. Too Much Pussy! follows seven lesbian-, queer-performance artists on their tour across Europe – sex on and behind the stage included. The extended version of the documentary was shown at the this human world-Filmfestival in Vienna. mokant.at met the director Jouvet to talk about queer-art, porn and the role of men in her movies.
mokant.at: Honestly, my first reaction and my first question when I saw your documentary Too Much Pussy! was: Wtf!? Is this a reaction you get often?
Jouvet: The reactions are very different. Some people come and say: "Thank you so much! I was waiting so long for this." But I also get strong reactions of rejection, for example: "The movie is disgusting and the girls are crazy." Anyway, nobody is quiet after seeing the movie. (laughs)
mokant.at: The aesthetics of Too Much Pussy! seem to be punk: the pictures are raw, the women are self-determined, you took a camcorder to record the documentary. How much Punk is in your movie?
Jouvet: There is a little bit of Punk in this documentary, but more Queer-Punk, Queer-Feminist-Punk movement. The girls in the movie act in a Punk attitude because they don't care what people think about them. They don't want to be the nice girls. It is a rebellion against a system that says sexuality is bad and that women have to protect themselves from everything connected to sex. Yeah, the girls in the movie are punk.
mokant.at: What else inspired you to shoot this documentary?
Jouvet: It may look very different now, but what also inspired me was the hippie movement. I think there are a lot of good ideas to take from the hippies – loving yourself, love your body and also don't follow the rules, taking a stand against the law – which refill our rights. I like to combine the two movements – both of them inspired me.
mokant.at: Do you feel a responsibility, as a female director, when showing your protagonists having sex?
Jouvet: I decided to shoot everything. I don't control the protagonists. They are totally free to have sex or not. I asked at the beginning if everyone is okay with it when I film them having sex. We were constantly on the move, having a lot of shows and traveling much, that I thought: "Maybe nobody will have time to have sex." But in fact, they had sex all the time. (laughs) They woke me up in the middle of the night, and said: "Émilie wake up, come on. Let's film me, I just met someone." So I filmed everything. I didn't want to censor the sex scenes when I was editing the movie. When it comes to sex, nobody has the same taste. I didn't want to be the only one to judge, so I left in everything. I just edited it to be shorter but I didn't cut scenes because they maybe shocked me, personally.
mokant.at: Did you ever think about taking part in front of the camera?
Jouvet: Well, at the beginning I was not sure if I would appear in the movie or not. On the first day, I was in front of the camera but I realised that I had to do everything on my own: the shooting and all the organization. There is a lot to deal with on the set and I didn't have a filming team. So I realised that I can't be on both sides of the camera. It would have been too much work.
mokant.at: How did you find the protagonists for your documentary?
Jouvet: I knew the French girls Wendy Delorme and Judy Minx. Delorme was in my first movie One Night Stand and Judy Minx I met in Paris. I was looking for the others on the internet. I wanted to find a very special type of performer. I was looking for women who describe themselves as queer, feminists and also pro sex – not everyone is like that. (laughs) I wanted to bring in specialists on this topic. That's how I found Sadie Lune and Madison Young in San Francisco and a girl in Berlin and so on. I asked them via E-Mail, if they want to be part of the tour. When we started, nobody knew each other. We all met in Berlin for the first time.
mokant.at: The group in the movie seems to have no hierarchy and watching them it feels like they have a lot of respect for each other. How did the group get along in reality?
Jouvet: They were very close. The circumstances of making this movie were magical. Each of the girls treated the other like a sister. It was a special atmosphere, like a bubble. There was no leader. Sometimes it was hard, as well. But there was a strong solidarity in the group.
mokant.at: You studied Photography and Sculpting. Since when do you do queer-art?
Jouvet: I started taking photos of women very early. I didn't call it queer-art because I didn't know the name. My interests were always centered around women, sexuality, gender and feminism. I always worked on these topics. I had difficulties during my studies because of them.
mokant.at: How did your professors react to your art?
Jouvet: (sighs) Not very good. (laughs) They were scared and couldn't understand it. At the same time they were excited because I was a young woman with blond hair who looked sexy and I took pictures of other women – naked, kissing each other. So they were excited. But I didn't want to have the pictures for the excitement of men – I made them for women.
mokant.at: Did you have to face aggression and hostility from people because of your movies?
Jouvet: I discovered that nobody had ever made lesbian- or queer-porn in France before. So I decided to do it. I had to find people to film. I wasn't looking for actresses – I wanted to have something real, real people. I wrote a blog about my plans and the blog became very famous. I received lots and lots of e-mails, some of them nice and some very insulting. During the screenings of my first movies, people came and handed out flyers protesting against my movie, saying that I broke the law, that I am very angry and rich because I exploit women.
mokant.at: Did it influence your work that people were rallying against your movie?
Jouvet: No. But it was hard, because I was super surprised: When I started, I was like: "I am a feminist and all the feminists are probably friendly and supportive with their sisters." But then I discovered that this assumption was totally wrong. There are different sub-movements in the feminist movement. I was very naive in the beginning.
mokant.at: How do feminism and porn fit together?
Jouvet: I think pornography is to show humans having sex. It is a representation of a very natural act, like eating, for example. I asked myself: "Why is sex surrounded by negativity? Why are women supposed to stay pure? Why is purity apart from sex?" I saw hypocrisy in this standard because there is a lot of pornography everywhere and everybody watches it. Most of the pornography is made by men for men. So there is a big, big amount of images controlled only by men and for men. I thought maybe women should try to make their own representation. This is the point where feminism and porn meet: creating our own images.
mokant.at: I remember seeing only two men appearing in your documentary. They didn't have a particular role, both are gay and one delivers the bad news, that the show of the queer artists has to end sooner than planned. Do men have any role in your movies? Are hetero men excluded from your movies?
Jouvet: They're not exclude, they are just not there. The movie is about a team of women traveling and during the shows there are a lot of women in the audience. But yeah, I don't want to have male performers. I was curious to see what happens when you do something like this only with women. The production and everything was done by women – so what happened was Too Much Pussy!
mokant.at: At which point in your life did you say: I am not going to follow the mainstream?
Jouvet: When I was a student. It was very hard for me to mix the mainstream art and my own art. I tried really hard but then I realised that it is too difficult because we don't have the same references. I read a lot of books on feminism-queer theories and I discovered that mainstream and these theories don't have the same motives and don't have the same role model. I tried for years and then I said: "Okay, stop." I wanted to do something for my own community. The mainstream art is not my business. I started to do my own thing and what happened is that the mainstream community started to be interested.
mokant.at: Is there a revolutionary potential in the queer-theories, in your opinion?
Jouvet: Yeah, I think there is something revolutionary but we have to pay attention because I think queer-theory is nothing without feminism. I experienced young people say: "We are queer but I only understand the funny part of the queer thoughts. I can change my name, if I want. I can wear a moustache with lipstick, if I want." But we should not forget that there is hierarchy between genders. If a guy puts on some lipstick for play, for example, he it is still a guy and he has more jobs, more money. If you are a lesbian girl, black or with disability for example, then you are on a low step of the hierarchy. So I think it is very important for women not to forget the hierarchy between people and that you have to fight against it. And that it takes more than playing with gender roles.
Homepage: www.emiliejouvet.com
Trailer: Too Much Pussy!

Titelbild: Émilie Jouvet Portrait; (c) Alessandra d'Urso