Waves Vienna: 7 Things We've Learned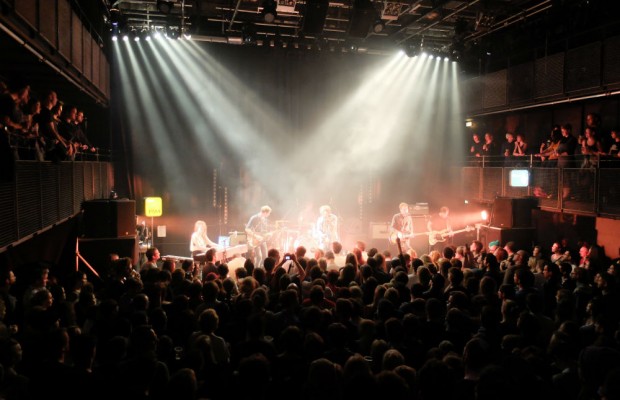 During the past weekend, Vienna lived up to its reputation as the musical capital of the world – but instead of classical violins you could hear beats, guitar solos and love songs emitting from the inner city. The reason for that was Waves Vienna 2014. The music festival with an affiliated conference brought local and international insider tips plus a few bigger names to Vienna for the fourth time. The Waves Vienna sees itself as a showcase festival and networking platform for artists, music enthusiasts and industry experts. (Deutsche Übersetzung)
We rushed from venue to venue throughout the whole weekend – from Alte Post to Flex via Porgy & Bess and back again. What we brought back are seven insights about the world of music and a list with new favourite songs.
 1. Austrian Artists are producing music at a high international level.
Ever since the infamous #elkegate-shitstorm, in which an Austrian radio presenter was publicly criticized for saying disrespectful things about Austrian musicians, one thing has become clear: The times when people were allowed to look down on the Austrian music scene are definitely over. This year's Waves Vienna has provided sufficient proof of that. Local bands like DAWA, Giantree, Chili And The Whalekillers or The Boys You Know convinced the international audience in a variety of genres. 
2. The audience at Waves Vienna makes you happy.
As soon as you put on your festival bracelet and enter the first location at Waves Vienna, you are wrapped in a carefree happy-hippie-hipster bubble. People who spend money for the Waves festival are music lovers and relaxed listeners who usually answer questions with a smile on their face. Viennese clubs can only wish to attract such an audience on regular days. Thumbs up for the special atmosphere inside the Waves bubble – the endorphins are still flowing through our bodies.

3. Readers want Sex, Drugs & Miley Cyrus.
Jonas Vogt, editor in chief of Noisey.com, explained at the conference why their online music magazine frequently publishes articles on things like Miley Cyrus' Instagram account or breasts in music videos: Because these articles pay their authors' salaries and therefore facilitate other, high-quality texts. mokant.at will bear that in mind and is currently planning an article on Justin Bieber's pubic hairstyle.
4. The Waves Vienna is improving your sense of direction.
Coming across bands who lost their way between Schwedenplatz and Stubentor is something that can happen at this festival. Even native Viennese people are sometimes challenged by the twisted streets of the first district – but after this weekend, we are able to find our way from Alte Post to Porgy & Bess in our sleep.

5. People in the music business are awesome.
The Waves Vienna Conference on the first day of the festival was a meeting and networking place for a wide variety of people from the international music business – from band managers and artists to music journalists and bloggers. Very few of them are actually able to live solely from their music-related jobs and are putting a lot of energy and free time into promoting new acts, organizing festivals or writing about music. Their passion is not only contagious but also the very reason that events like these can happen in the first place.
6. Thees Uhlmann is an ass-kisser (and for that we love him).
The Estonian girls next to us at the concert of the Tomte frontman were a bit puzzled – no wonder when you keep in mind they didn't understand his announcements between songs. In these, Thees Uhlmann showered his large audience with compliments and anecdotes about the "best city in the world" (Vienna, of course!). The result: an ecstatic atmosphere at brut!
7. The program at Waves Vienna leads to sleep deprivation.
Even early risers, organisational talented people and enthusiastic clubbers are frequently put in dilemmas by the festival program – choosing one of three promising bands who are all playing within the same hour is not an easy decision to make (which, optimally, should be made beforehand). Because there was so much to listen to, discuss and dance, we didn't manage to visit Bratislava unfortunately, where there was an extension of the Waves Festival.

Thank you, Waves Vienna, it was a pleasure.
Hat dir dieser Artikel gefallen? Jetzt kannst du Mitglied werden und damit jungen Journalismus fördern!
Artikel von Katharina Egg und Rebecca Steinbichler. Titelbild ©: Rebecca Steinbichler
Katharina Egg ist als Redakteurin für mokant.at tätig. Kontakt: katharina.egg[at]mokant.at