Waves Vienna: 10 New Favourite Songs from the Festival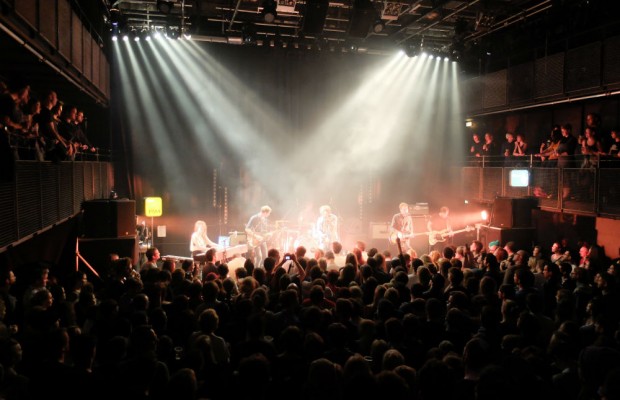 The Waves Vienna Festival is all about discovering promising new bands and getting the opportunity to experience potential chart-stormers before they, well, storm the charts. Now that the weekend is over, there are quite a few melodies we can't get out of our heads. Get ready to stock up your playlists – this is our soundtrack for Waves Vienna!
1. Charity Children – Elizabeth
We fell in love with Charity Children after about five seconds into their gig at Flex Café. The New Zealand couple started up as street musicians in Berlin and have a wonderful gift of filling up the whole room with happy indie-folk energy.

2. Kwabs – Walk
There was great anticipation of the new "soul sensation" Kwabs even before the festival had started. After a phenomenal concert at Porgy & Bess it was clear that all the hype was justified. Everyone who attended the show will be able to show off within a year's time.

3. A Basement in Bloom – (Over And Over) Heavy Curtains
This Austrian band combines cello music, simple electronic sounds and indie music elements into a touching piece of art.
4. Johann Sebastian Bass – Heart Of Stone
Mixing baroque music with electronic beats, pretending to be illegitimate sons of a long-dead composer and wearing rococo-style wigs while performing is very, very weird. We like weird.

5. Isaiah – All The Things
This ethnic folk band from Israel with a lead singer who looks like a mixture between John Lennon and Jim Morrison charmed their way onto this list with extravagant instruments and a unique sound. First class Hippie music.

6. Carnival Youth – Never Have Enough
These four young musicians from Latvia are already quite popular in their home country. At their gig at the Waves Festival, we couldn't figure out which one of them is the lead singer because everyone of them had such a nice voice.

7. The Animen – My pretty Ballerina
The stuff Indie Rock dreams are made of. Although the guys don't like to be compared – they kind of sound like a fresh pendant to the early Mando Diao, made in Switzerland.

8. Garden City Movement – Terracotta
Israel again! Garden City Movement were formed only a year ago and create a wonderfully strange mixture between indie-based electronic sounds, traditional live instruments, dreamy voices and artsy visuals.

9. The Hidden Cameras – Gay Goth Scene
Okay, the Hidden Cameras may not be an insider tip anymore. But a band that never fails to surprise at their live shows (in this case: half-naked men with golden ribbons around their chests!) and frequently invite random people to perform with them onstage deserve to be on our list. Period.

10. Intergalactic Lovers – Delay
These four Belgian musicians call themselves a band of friends – something the audience can feel during their live set. The singer's lovely voice reminds us of Feist and is impossible to forget.

We know – picking only ten songs out of 137 acts is ridiculously absurd, and maybe a crime in itself. Therefore, feel free to post your personal Waves Vienna favourites in the comment section below to complete the list!
Hat dir dieser Artikel gefallen? Jetzt kannst du Mitglied werden und damit jungen Journalismus fördern!
Artikel von Katharina Egg und Rebecca Steinbichler.
Titelbild: (c) Rebecca Steinbichler
Katharina Egg ist als Redakteurin für mokant.at tätig. Kontakt: katharina.egg[at]mokant.at