Fink: "Winehouse gave me the love of the song back"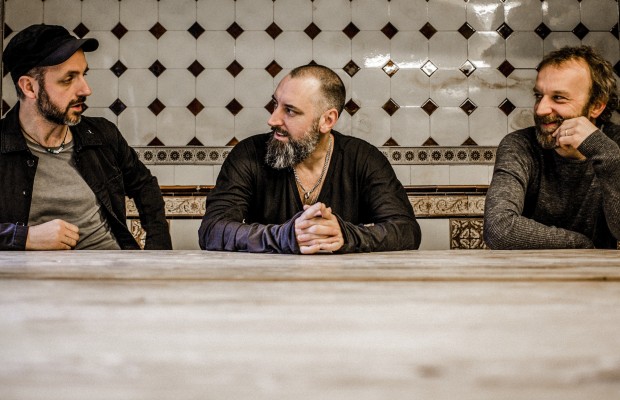 Fin Greenall and Tim Thornton of Fink talk about touring, getting emotional on stage and working with Amy Winehouse
Fin Greenall a.k.a. Fink has quite the impressive résumé. The British singer/songwriter co-wrote songs with musicians such as John Legend, Banks and Amy Winehouse – after getting bored of his career as an electronic DJ and producer in the Nineties. His band (who is conveniently called "Fink" as well) just released their fifth studio album Hard Believer in July. With tracks like Looking Too Closely, they manage to create personal, thought-provoking and emotional music which sounds powerful rather than cheesy.
Together with his band mate Tim Thornton (who, by the way, is also a book author and writes hilarious blog entries for the Huffington Post), he talked to mokant.at before their show at the Poolbar Festival in Feldkirch. Find out how they tricked their own record label and what the Spice Girls had to do with Fink quitting electronic music.
mokant.at: On Twitter you wrote that you are at the Poolbar, but can't find the pool or the bar.
Tim: Yeah, that was when we arrived. It's a strange place! Seems like they converted a swimming pool into a gig venue. They must have put things on top of the pool or something.
mokant.at: No, the people are standing inside the pool.
Tim: Are they? Gross…! And during the rest of the year, it is a pool?
mokant.at: Oh no, it hasn't been a real swimming pool for about 35 years.
Tim: Ooooh, I see! (laughs) You know, on Twitter they want us to write chatty things. As opposed to just always saying "we're playing here. You can buy tickets here."
mokant.at: So the word "poolbar" was just made for that tweet. What about other places you see when you're touring – what's your favourite so far?
Fin: We see a lot of beautiful places! When we do American tours, we always have to drive through South Dakota and Montana and that's really beautiful. Just epic landscapes and big drives. It's very American.
Tim: I suppose one of the nicest places I remember is when we played at a festival in Switzerland on the shore of lake Geneva. From the stage, as I was drumming, I was looking at the whole lake and the mountains. Although when I'm in Switzerland, I always think, "I can't even afford to be looking at this!" It's built for people who can afford that view.
mokant.at: But can you even enjoy places like that? Do you have days off?
Tim: Yeah, we have some travel days. But annoyingly, sometimes at the best places you don't have a travel day in. For example, I really wanted to check out San Francisco, but there was no time. Whereas we had a whole day in Redding. That's further North in California, which is, well…
Fin: There's nothing there. But you have to make an effort to see places when you tour. You still do that at the first tour. You are like "We're gonna play a gig in Brussels! Wow, Brussels, cool, look, there's a church, and there's a fountain!" (everybody laughs) And after the ninth time you're like "Fucking Brussels again. You remember where that bar is? Let's just go there."
And one of the most beautiful things I ever saw, and I'm not just saying this, was when I did this tour in Austria in 2006. I had only seen Austria in the winter, and that time it was in the country and in spring. Seeing it blooming was really, really pretty.
Tim: Also Graz is nice. I think we had a day off there. That was very pretty.
Fin: Yeah, and I got my copy of Jimi Hendrix' Rainbow Bridge in Graz.
mokant.at: Fin, your style has changed a lot: You have been a successful electronic DJ and now you're a singer/songwriter. How did that happen?
Fin: I was into dance music in the 90's, which was the right time to be into dance music. It was revolutionary and exciting and interesting, but then I slowly noticed how the mainstream was just adopting it. There was a DJ in the Spice Girls video and McDonalds had a DJ skateboarder in their ads and my whole culture was just getting sold. And as soon as my mum and dad kind of understood what a DJ was I realised that being a DJ wasn't avant garde any more (everybody laughs). So I just got really bored of it all. I've always been really ambitious and wanted to play internationally to big clubs. So three or four years later, where do you go from there? When I quit in 2002, there wasn't really anywhere to go.
Then I saw lots of live shows and got into live music. I wanted that energy. At that point, a load of cool records came out that were really inspiring, one of them being José Gonzalez' Veneer, which had Heartbeats on it. That made singer/songwriting cool to me. I had thought it was really uncool, but then I heard José and thought "fuck, I could do that maybe!" That's where the journey began. There's a six-year-gap between the electronic records and the singer/songwriting records, which is a long time.
mokant.at: That's true, what did you do in those years?
Fin: I wrote one record that was in-between. It was shit. That never came out.
mokant.at: Really?
Fin: Yeah. I was trying to make an electronic music record with live elements in it. And it's either or, that's the truth of it.
Tim: I think when we (the rest of the band, Anm.) came on board, you were still holding on to the electronic side. And then it took another two years until anything actually came out. It was a long process, it didn't just happen.
Fin: At Ninja Tunes, they said to me "you know, you can't do half and half – it has to be all singer/songwriter". That was good advice.
mokant.at: I read somewhere that you tricked your label into thinking that it wasn't you who was singing. Is that true?
Fin: Yeah absolutely. Because I had known them since 1997 and we would have gotten a weird reaction if I said it was me. I wanted to know what they honestly thought about my singing. So if it wasn't good enough, they could say "dude, I don't think the singer's very good". And I could be like "yeah okay, fair enough, I won't use him any more". So we told them it was a young kid from America who's a guitarist as well and I was just producing and not doing anything – to get an honest reaction out of them.
mokant.at: So were they angry when they found out you had lied to them?
Fin: No, they were really happy! Every label had a singer/songwriter so they wanted one too, and because I was already signed, they got one for free (laughs). So they were really happy that it involved zero effort on that part.
mokant.at: You've also written songs with lots of impressive people like John Legend or Amy Winehouse. You said somewhere that working with Amy Winehouse changed the way that you thought about songs. What did you mean by that?
Fin: Yeah, definitely. That was in 2003, 2004 – MySpace was just about to happen and iTunes hadn't happened yet, so the industry was still very much Pop and everybody else. Pop meant pretty girls and pretty boys, and Amy didn't look like your pop girl. She was short and had a funky look, but she had an amazing voice. And working with her gave me the love of the song back. Because she could just sing a song and it was awesome, and my beats sounded great with her singing on it. So that meant the song was making it loads better. And it honestly made me see first-hand that it's not what you look like necessarily in the music business, it's actually what you sound like. Well, within reason – because the worse you look, the better you have to sound (laughs). And Amy, when she first came out, didn't have that look that we know her for – the beehive and the tattoos and the fifties thing. It was more commercial. So her first album was a bit weird and didn't really work.
Tim: She was kinda the North London girl.
Fin: Yeah, she was like an It-Girl in a pink dress and a little dog walking in Chelsea and that's so not her. But when she sold a million records it was like, "right, now I can be me". Tattoos and boyfriends and back to black. And it was just awesome to see that a really good song and an amazing voice can just get you signed, it's so simple. You know, if you wanna sign to Island Records, then just have an amazing voice and write an amazing song! (laughs)
mokant.at: Wow, it's that easy!
Tim: And you have to be prepared to playing gigs in… well, fucking everywhere.
mokant.at: That brings me to my next question: Before a gig, are you still nervous after all these years?
Fin (mocking Tim and punching him in the side): Are you? Are you?
Tim: Yeah! You're not?
Fin: No, not any more!
Tim: I'm keyed up. Not in a worried way, but if I don't feel sort of (breathes in and out heavily), then it's probably not a good thing. You need a bit of that. I tend to get more nervous about technical things though than what I am doing.
Fin: Yeah, nervous is kind of the wrong word now. More like "excited". And every gig is so different. Even now, even after hundreds of gigs. There's gonna be a worst track and there's gonna be a best track and you have no idea which one it's gonna be. That's something the other members of the band don't care as much, but we find it fascinating. Afterwards, we will say "oh man, that one was awesome tonight!"
Tim: Yeah, and it's never the one you think it is.
mokant.at: Is that depending on the audience?
Fin: Partly… It is depending on the energy and the vibe and on what the audience wants. Sometimes they want more ballads and other times they want the noise and the rockier stuff and you have no idea.
mokant.at: I also wondered – because you have really personal songs – isn't it hard to get emotional on stage after singing something for the hundredth time?
Fin: When we get bored of a song, we cut it out of the set list. The minute I don't care any more it's gone. Because the way to give a good performance is to always take yourself back to that place and what the song means to you, and then it always comes out the same way. For example, the song that we've played the most times is This Is The Thing.
Tim: Since 2007, there probably only have been three or four gigs where we haven't played that one.
Fin: Yeah, and I can still transport myself back to the moment to why I wrote it before I sing it, every time. Because there are always people who have never seen it before and you don't want to just phone it in, as we would say in English. The audience wants to see the best version ever – it might be the only time they ever see it. Not because there might be someone important in the audience because everybody is equally important. You don't know which song is important to them so you gotta give every single one a thousand percent. And that's the only way we know how to do it really.
Tim: Yeah, and that particular song means something to all of us. Like, when I hear you sing "the things that keep me alive keep me alone", I think "oh yeah, shit… I'm a million miles away from my family so I can do this. That's what I do and that's the reason I'm not with them."
mokant.at: Powerful lyrics.
Fin: (to Tim, mockingly) Powerful lyrics, bro!
mokant.at: What was the last concert you bought tickets for?
Fin: That's a great question.
Tim: Where I bought a ticket?
Fin: Yeah. Not guest list. That's tricky, because guest lists are easy for us.
Tim: Does Damon Albarn's opera count?
Fin: Yeah that counts! Was it really?
Tim: Yes, Doctor Dee. The one about the medieval witch-doctor kind of person. But I have a weird thing with buying tickets. Whenever tickets come up for a gig, I think "oh yeah I want to go and see that", but I never come round to buying it. I don't know why, it's really silly.
Fin: For me it would be We Have Band at Berghain in Berlin, a couple of month ago. And before that, it was Of Montreal at Lido in Berlin.
Tim: There's also something really lovely about going to see a gig that you are not at all involved with. Sometimes at a concert, I get that kind of impulse where I'm standing and watching a show where I think "oh, what time do I need to go backstage and sort stuff out?" And then I think "oh, it's not my own show!"
mokant.at: That's probably liberating.
Fin: Yeah, that's really cool! We really love seeing bands on our days off and at festivals. It's also nice to see someone on the same stage that you've been on, because the sound is different on stage than out front. You see them saying stuff like "what's going on with the guitar?" and you think "dude, everything sounds great, just chill!"
Tim: On Plissken, this festival in Greece in June, we saw a lot of good bands there, like Suuns and Wild Beasts. At times we could really stand and watch.
mokant.at: Are you going to see the Austrian singer that's performing before you today?
Fin: Yeah, we're definitely gonna see Mira (Schmieds Puls, Anm.), she sounds really interesting. Normally when we're on tour we take our own support bands that we like and we've been really lucky with the ones we've picked so far. We've had Ben Howard and Charlene Soraia, Rachel Sermanni, and on the next tour we're having this kid Douglas Dare, who's a really interesting pianist and singer/songwriter. It's great meeting young musicians who give us something as well as we give them something. We learn a lot from them, because we have no training at all.
mokant.at: Seriously?
Fin: We can't read music, we can't write music and don't do warm-ups. And a lot of these kids have lots of training. We learned loads from Rae Morris, this girl who toured with us on the last tour. She would warm up before every show and you would hear her do that la-la-la-la-la-la-laaa. And we'd be like "what are you doing?" So we're learning real basics.
mokant.at: Okay, three quick questions at the end: If you had to listen to one song for all your life, which one would you pick?
Fin: Not our own songs – anyone else's songs?
mokant.at: Let's say, one of your own and one of someone else.
Tim: One of our own, blimey… Right now I would probably pick Pilgrim.
Fin: Would you?
Tim: Yeah, because it's the one song I really feel that it's a hundred percent successful. There's nothing I would change and I don't think that I could have given any more to it.
Fin: I think right now it would be White Flag, because it has the least amount of singing in it. (everybody laughs)
mokant.at: You don't like to hear yourself singing?
Fin: Not for the rest of my life!
Tim: And you could just sing along if you felt like hearing your voice.
Fin: So, someone else's song would maybe be Hey Joe by Jimi Hendrix. I know it's a cliché but I love it just as much as when I first heard it. Best guitar solo ever.
Tim: I think The Man With A Child In His Eyes by Kate Bush. Because, lots of reasons. It's just perfect. And it also reminds me of a lot of things.
Fin. Good question. Next!
mokant.at: Guilty Pleasure Song?
Fin: Tim's got a whole fucking iPod of them!
Tim: Yeah I know.
Fin: …And you were singing to Cliff Richard last night in the bar!
Tim: Oh yeah I remember. Also I watched a documentary about INXS the other day, which was actually really interesting. So for some weird reason, I'm listening to a lot of INXS at the moment.
Fin: Are you? Well, I don't really have a song like that, because I'm really cool (Tim laughs). That's my answer.
mokant.at: Last one: What was your happiest moment as a band?
Fin: My happiest musical moment was probably the last gig of the Perfect Darkness Tour, when we came off stage in that little French town.
mokant.at: You're really happy when you finish a tour? (everybody laughs)
Fin: Well that tour was really long, and it was winter, and we had loads of stupid shit happen. Don't think that we didn't enjoy it, we still loved it! But when we got to the end of it, all intact and all of our instruments were fine, all of us were just so fucking happy.
Tim: Well, mine would probably be the gig with the orchestra.
mokant.at: You did a show together with an orchestra?
Tim: Yeah, the Royal Concertgebouw Orchestra in Amsterdam invited us to play with them. This guy Jules Buckley scored six of our songs for an orchestra and so we did a show together: Three of us with a hundred piece symphony orchestra. It was amazing. There were a couple of moments during that gig where I thought "if I died now I could be happy that I've achieved this, at least."
Fin: That was amazing! And now, whenever we meet another musician who is talking about some great show they played, I secretly think "just in a minute, I'm gonna casually say that we played with a hundred piece symphony orchestra!" (laughs). Also, the parents love that shit. Everybody gets that! If my grandparents had been alive to see it, they would have loved that, they would have gone there.
Titelbild: (c) Tommy N Lance
Pictures of Finks concert at the Poolbar Festival 2014 can be viewed here. (c) Matthias Rhomberg