Thanks: "Visceral and real"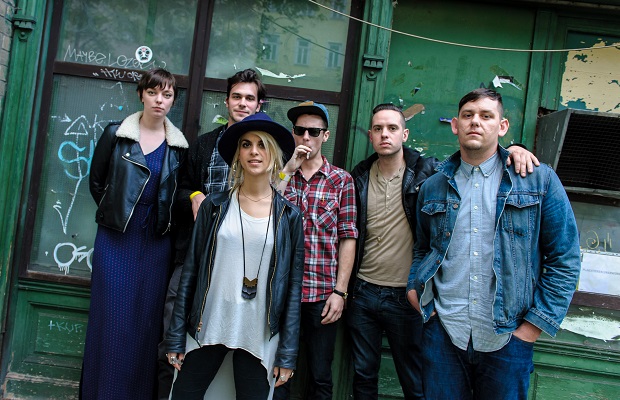 Thanks talk about the advantages of a short name, why touring in Europe is easier than in the U.S. and why two band members even quit their jobs for the tour.
Thanks from Portland are on tour in Germany, Austria, Switzerland and Belgium with their first full length album Blood Sounds in April and May. At their first tour stop in Vienna we met the band, whose female lead singer bears the famous name Jimi Hendrix, for an interview. The music of Thanks can be best described as Dark Soul. But who thinks of gloomy musicians like Amy Winehouse now is totally wrong. Rarely have we had an interview with a band before that put such great emphasis on fun, as Thanks did.
mokant.at: A question you've probably heard a hundred times before: Why the name Thanks? Why such a simple and short name?
Drew: I was thinking of music that I wanted to play and I wanted to get some friends together and play in a band that hadn't been conceptualized at all. I thought of some band names and Thanks was one of them, so Thanks came even before the members or the sound of our band. It came from one of my favorite country songs. It's Thanks a lot by Ernest Tubb. It's a very sarcastic song. The "Thanks a lot" goes out to a woman who broke his heart.
Andrew: Basically we all liked the name because it was super simple and short. It's better than having long names that are complicated to say. Especially if you're in a bar and it's loud and someone asks for the name of your band. If you say a long name then the answer will always be "What?!", but if you say Thanks, they just go "You're welcome!" (all laugh)
Noah: No, they also say "What?!".
Jimi: There are a lot of jokes that can be made around our name and they are. On a daily basis.
mokant.at: Would you choose that name again? Because it's absolutely ungoogle- and unfacebookable.
Lilly: That's the problem with it.
Drew: You need to know our album name. If you know the album name you find us instantly.
Jimi: Also we're planning on getting famous… (laughs)
Lilly: So we'll be the first hit on google eventually!
Jimi: But yes, we get asked that a lot. We would still take it because we like it. If the music is good it doesn't matter what your band name is.
Noah: And in the end you did find us.
Andrew: It's definitely harder to find but we became so attached to the name that we probably wouldn't give it up. We're confident that we are a good enough band that we can make this name work.
mokant.at: One last question about names. Is your real name Jimi Hendrix?
Jimi: My real last name is Hendrix. So everybody called me Jimi since I was a kid.
Noah: She was Jimi Hendrix before she was in a band.
Jimi: Yes, it's not a stage name. It's been my nickname since I was like eleven. I'm not trying to compete with the other Jimi Hendrix.
Mokant.at: Alright, enough of names then. This January your first full length album was released. What is the message behind the album, what makes the album?
Jimi: The message behind the album… That's a difficult question, even though I'm the person who writes the lyrics. It's such a collaborative effort to write music, it's hard for me to sum up. But the title of the album is Blood Sounds. Basically what Blood Sounds means to me: The truest sound that you can possibly have. It's like the insides of you. That's what our music is. It comes from deep inside. It's visceral and real. Like deep guts music! (laughs) … Emotion is important.
Lilly: Also… I don't want to get cheesy on you guys…
Garrett: Go ahead!
Lilly: … to me, blood means family. I know we feel it! (all laugh)
mokant.at: Something completely different: Every European band dreams of going to the United States and becoming famous. You're doing it the other way round. What do you expect from your Europe Tour?
Drew: Fun!
Jimi: To see Europe!
Andrew: We are keeping our expectations low on this tour. We know it's our first time here and we are quite an unknown band here. We want to build a fan base here and want to come back.
It's funny, because in America there is this idea that a lot of bands go to Europe and build up a fan base there and then they can get bigger in the states. A good example in the US is The Dandy Warhols, they did that. They are almost bigger here than in the States. The Gossip or The National did that too. Touring in the U.S.A. is a lot harder.
Jimi: … it's very expensive.
Lilly: People don't treat you as nicely in the states.
Andrew: For all these reasons, the opportunity of going to Europe was just something we had to do.
Drew: Also, we are still an unsigned act. So there is no record label with any kind of financial support for us. We are doing this all on our own. We're kind of flying without a net, we could crash and burn, especially financially, at every moment as a band. So the opportunity to tour in Europe is really great. What we get is better fees for our shows and there's a lot more support for the artists here in Europe. That is a huge benefit, although it cost us a lot to get here.
Lilly: It's worth it.
Drew: It's totally worth it and it's also the best vacation we could take with our best friends.
mokant.at: I suppose all of you have to work hard and have jobs besides making music. How did you arrange it, that all of you don't have to work for one month at the same time?
Drew: I quit.
Garrett: We both quit our jobs. (all laugh)
mokant.at: What did you do?
Garrett: I worked in a bar and he was a chef.
Drew: Yes, I was running a restaurant in Portland and I just quit.
Lilly: You wanted to quit anyways. (laughs)
Jimi: You were just waiting for an excuse! (laughs)
Drew: Yeah, I was waiting for that day. (laughs)
Jimi: The rest of us were just lucky that our bosses are really kind, respect us and support our aspirations. Also I think that they just wanted to be able to brag: "Oh, she is in Europe right now for a month." (laughs) We are so lucky that people support us.
Drew: We both have opportunities when we come back that we can go to. There is a support system there for us.
Garrett: Yeah, I didn't burn a bridge at all, I could work in Portland again. (laughs)
Drew: The other thing is that we all work really hard with our music and we all work really hard at our "day jobs" back in Portland. We've earned it to take this vacation and then also have opportunities for ourselves when we come back. Either we are keeping our jobs in some cases or we are very able to find new ones because of how hard we do work. I also have friends who suck at their jobs. (laughs) But that's not so much the case here at all. So we're all not just talented in making music ,we're also talented in working hard for it. So I have confidence to continue with this musical project to the end.
mokant.at: How did you plan the tour? On one day you're in Cologne, then you go to Munich and on the next day you go to Gent. That's like driving through half of Europe and back.
Andrew: The answer is that we didn't plan it at all. (all laugh)
Jimi: The thing is that when you are a new band that's just kind of the way it goes.
Lilly: We take shows when we can get them.
Jimi: In the U.S. you drive so much in between shows. Sometime ten to twelve hours.
Noah: Especially when you are on the west coast. Everything is so spread out there.
Jimi: Our longest drive here takes eight hours, that's a piece of cake! (laughs)
mokant.at: But on the West Coast it's just driving up and down, in Europe you're driving like zigzag.
Jimi: Yeah, it's a great way of seeing Europe! (laughs)
Andrew: When we're going from Portland to San Francisco it takes a minimum of ten hours and there are no real cities in between. Tomorrow we are driving from here (Vienna) to Zurich and that's eight hours. So that's like a standard drive that a lot of bands make in the U.S..
mokant.at: But you're doing it that way for nearly one month here.
Jimi: Yes, but we are prepared … sort of prepared. (laughs)
Garrett: We are excited about the landscape. We get to see so many different things.
Jimi: We have some cool days off too. We have a few days off in Prague and we also have a few days off where we're just gonna hang out in a chalet in the Alps and write some music. So we have something to look forward to after the crazy long drives.
mokant.at: As a last question: Which Austrian musicians who are still alive do you know? Except Chronic City. (They had a concert with Chronic City that night)
Lilly: We know Giantree!
mokant.at: That's one of the bands your Promotion Agency supports. Any others?
Garrett: We met a lot of musicians at this Red Bull event a couple of days ago. That was cool but I don't remember the names…
Lilly: In the United States we don't get a lot of Austrian music.
mokant.at: The problem is that we don't get a lot of Austrian music here too. We just had a big conflict between media and Austrian musicians last week because the big Austrian radios hardly play Austrian music.
Jimi: That's a shame. Because you're so supportive to others.
Drew: Something I was hoping was to be able to turn on the radio and hear Austrian music. Instead it was just the same as we hear in the States.
Featured image: (c) Raimund Appel